Photo Albums
It is hoped that the content of these albums will increase over the next few months. In order to do this, members are encouraged to submit digital pictures that are relevant to this site and which may be of benefit to others. Contact the webmaster if you need further advice.
The album will open up in a new internet page. To return to this site simply close the album or follow the relevant links on the bottom task bar.
An appeal for help
Does anyone have any old photographs of Memorials or general pictures of the graveyard at Christ Church Oakworth? These are likely to be prior to the removal of most of the gravestones in the mid 1960's. Anyone who's parents or ancestors were married at this church may have wedding photos that show part of the graveyard, especially prior to the 1960's. These are hidden gems for family historians.
Malcolm has received a number of pictures showing the church around 1905 but more would be useful.
It is hoped the Society can record some of the missing gravestones along with those few that remain. Please contact Malcolm Reeves if you are able to help.
Can anyone shed light on the identities or clothing of the group below. One person is known, Horace Bray, centre back.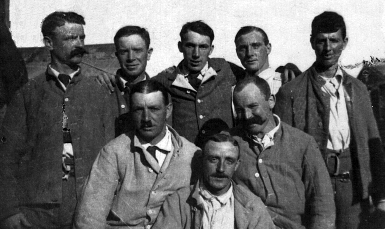 If you can provide any information, please contact the Web master.
---
The Society would like to acknowledge the contributions to these albums from the following:
Malcolm Reeves

David Feather

, and